Ask Tammie
🏡
your who, what, when, where, why & how for Real Estate
A Union County native and longtime Cranford resident, Tammie, has a vast local knowledge of the communities she services. She began her journey to the top of her field at the relatively young age of twenty-five, back in 1995. "I thought real estate was a great opportunity to achieve the American dream for myself and purchase my own first home, which I did soon after starting." Helping others achieve that dream as well has been her steadfast focus for the last twenty-five years, and Tammie's many grateful clients have come to appreciate her first hand knowledge of the local area's housing market and trends, her attention to detail and the amazing customer service she provides.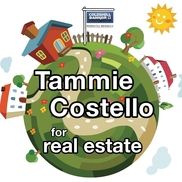 Tamatha "Tammie" Costello - her reputation doesn't do her justice! I've known Tammie for over 10 years; she's watched me grow from a teenager into a woman. There was no one I trusted more with my future than her. Tammie made the whole process the most fruitful experience of my life. Getting a home is one of toughest choices an individual will have to make …
  -Nicole Wagner ~ Buyer, Client
Tammie has sold two houses for me in the past few years. Tammie is a TRUE professional and very knowledgeable at her craft. She is not a pushy salesperson, she cares about her client and what they want out of the sale. For my wife and I it was very difficult to sell our home in a Cranford that was in our a Family for over 80 years. Tammie helped us stage our home and …
  -Robert Colaneri ~ Seller, Client
Tammie Costello is wonderful. Tammie conducted a thorough evaluation/market analysis and gave excellent recommendations for home staging. Our house was priced right and only on the market one week when we received multiple offers. Tammie also assisted us on the purchase of our new home. The entire process from start to end was flawless because of Tammie. I would …
  -KerryAnne Hollis ~ Seller & Buyer, Client
Tammie was an ABSOLUTE delight to work with! She is incredibly knowledgeable, resourceful and patient and her commitment to her clients is unparalleled. Tammie went above and beyond and I am very fortunate to have had her guidance during the home buying process. I confidently recommend Tammie and will surely seek her out when I buy my next home.
  -Katie Pantelic ~ Buyer, Client
Tamatha is an excellent real estate broker and an even better person. She helped us sell our home while at the same time helped us purchase a home. She was extremely professional and always had time to talk on the phone and was always quick to respond to a text. My wife and I were a little nervous because we had found our dream and were terrified that it would slip …
  -Dan Gillen ~ Seller & Buyer, Client
Recent
Sales
$119,000
North Plainfield, NJ