Tammie Costello
Sales Associate
License #:

9693565
Tamatha "Tammie" Costello of Coldwell Banker Realty understands the importance of staying on top of her game in the highly competitive real estate industry, and this has resulted in her reputation as a well respected agent working in the business today.
A Union County native, Tammie, has a vast local knowledge of the communities she services. She began her journey to the top of her field at the relatively young age of twenty-five, back in 1995. "I thought real estate was a great opportunity to achieve the American dream for myself and purchase my own first home, which I did soon after starting." Helping others achieve that dream as well has been her steadfast focus for the last twenty-five years, and Tammie's many grateful clients have come to appreciate the attention to detail and amazing customer service she provides.
Says Tammie, "I pride myself on really listening to my client's needs, and helping them make informed decisions when they're buying or selling a home. Then, I don't just meet their expectations, I exceed them at every opportunity. I think it's very important to keep up with the times, because the things I did with my business twenty years ago are not going to work today."
Scores of five-star reviews on Zillow are a testament to Tamatha's work ethic and willingness to hold her client's hands through what is often the most expensive and emotional purchase of ones lifetime. One such review reads: "Tammie was a pure delight to work with. She understood our needs right from the start and helped us set the right price. The photos she had taken of our house were so good we barely recognized it. We got our asking price within a couple weeks of listing and the negotiation process was smooth.  Tammie was a pleasure to work with and I'd highly recommend her to anyone."
In her constant drive to stay ahead of the curve, Tammie avails herself of the latest and most cutting edge technologies for marketing her listings. She utilizes social media platforms that include Instagram, Twitter, FAcebook, Snapchat & You Tube. She is also experimenting with TicToc as a means of reaching out to the millennial crowd. Professional photography and interactive floor plans are among her arsenal of marketing techniques. In addition she utilizes professional and virtual staging when necessary. "I have a good eye for design but I also have a relationship with a stager, so I'll decide which is best depending on the listing."
When Tammie isn't working, she enjoys spending time with family & friends.  She is an avid decorator and likes to travel.
As for the future, Tammie's plans are to continue to provide her clients with the same top-notch service based on a solid work ethic and a positive attitude, all while continuing to stay ahead of the curve.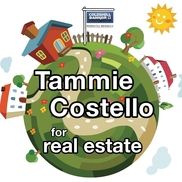 Sold
Listings
Scotch Plains, NJ
beds
baths
"Tamatha, "Tammie" Costello is a star. She is completely competent, hard working, and always available to her clients. She responds to inquiries promptly and is always willing to go the extra mile to be helpful. Her signature video montages that she puts together for her clients are unique, charming and effective. She was my agent during a particularly difficult and protracted sale and was helpful, positive, supportive and cheerful during the entire process. It was a pleasure working with her. I would not hesitate to recommend her to friends and family. "
  -Louise Ayd ~ Seller, Client
"Tammie Costello is wonderful. Tammie conducted a thorough evaluation/market analysis and gave excellent recommendations for home staging. Our house was priced right and only on the market one week when we received multiple offers. Tammie also assisted us on the purchase of our new home. The entire process from start to end was flawless because of Tammie. I would highly recommend her for a sale and/or purchase."
  -KerryAnne Hollis ~ Seller & Buyer, Client
"Tamatha "Tammie" Costello - her reputation doesn't do her justice! I've known Tammie for over 10 years; she's watched me grow from a teenager into a woman. There was no one I trusted more with my future than her. Tammie made the whole process the most fruitful experience of my life. Getting a home is one of toughest choices an individual will have to make towards their future, let alone their first home buying experience, and Tammie fulfilled her duties in ensuring the process would be as smooth as possible. From the criteria my fiancé and I sent her of what we were looking for to the bank and lawyer we chose, her experience helped us make what turned out to be the best choices. I still cannot thank her enough for her patience and guidance. Anyone looking to buy or sell, Tammie is the right choice. Thanks again Tammie, can't wait to do it again!"
  -Nicole Wagner ~ Buyer, Client
"Tammie was a pleasure to work with and a true professional with a wealth of valuable experience to offer! As a first time buyer, Tammie guided me through the process seamlessly. She was extremely patient with my lack of understanding. Tammie was very responsive to all my questions/concerns and provided helpful insights as I navigated through the process. She was a pleasure to work with and I would highly recommend her without hesitation!"
  -Megan O'Leary ~ Buyer, Client
Coldwell Banker Realty
209 Central Ave
Westfield, NJ
07090